Ooze Slim Pen Twist 510 Thread Battery Review
Ooze Slim Pen Twist 510 Thread Battery
The Ooze Slim Twist 510 thread battery completely outclasses any other "gas station" vape in it's price range. The Slim Pen Twist Battery is ideal for anybody just beginning to use cartridges. Voltage options vary from 3.3V to 4.8V, and the device is compatible with all oil, concentrate, and essential oil cartridges with a 510 connection.
Ooze Slim Pen Twist 510 Thread Battery Review
The Slim Twist 510 Thread battery has a 320mah battery, which is plenty for a gadget of this size. If utilized in modest circumstances, it ought to last the majority of the day. The Slim Twist battery aids in absorbing the blow.
To get the greatest clouds and taste, the user may choose a specific voltage between 3.3V and 4.8V.
The battery may be charged using a USB connector that is included in the box. The overcharge prevention feature on the USB smart charger increases the battery's overall life.
The only thing a new user has to know is that the item requires a USB wall smart charger to recharge it. Battery life may be shortened by chargers that aren't Ooze. The Slim Pen Twist batteries should not be plugged onto a computer.
How does it compare against other vapes in it's category?
The Slim Twist is a very popular pen and it does a good job at doing what it's meant to do. Which is to be a budget 510 thread battery. When compared to an off brand gas station 510 thread battery then the ooze wins all the time, every time. But there are some vapes that come in cheaper and stronger then the ooze. A similar style, variable voltage, and 400mah battery(70 higher than the Ooze) is the Honeystick Elf 510 thread battery for$13.98.
Ooze Slim Pen Twist 510 Thread Battery Includes:
1 x 510 thread battery
1 x Micro USB Charger
1 x Manual(on the box)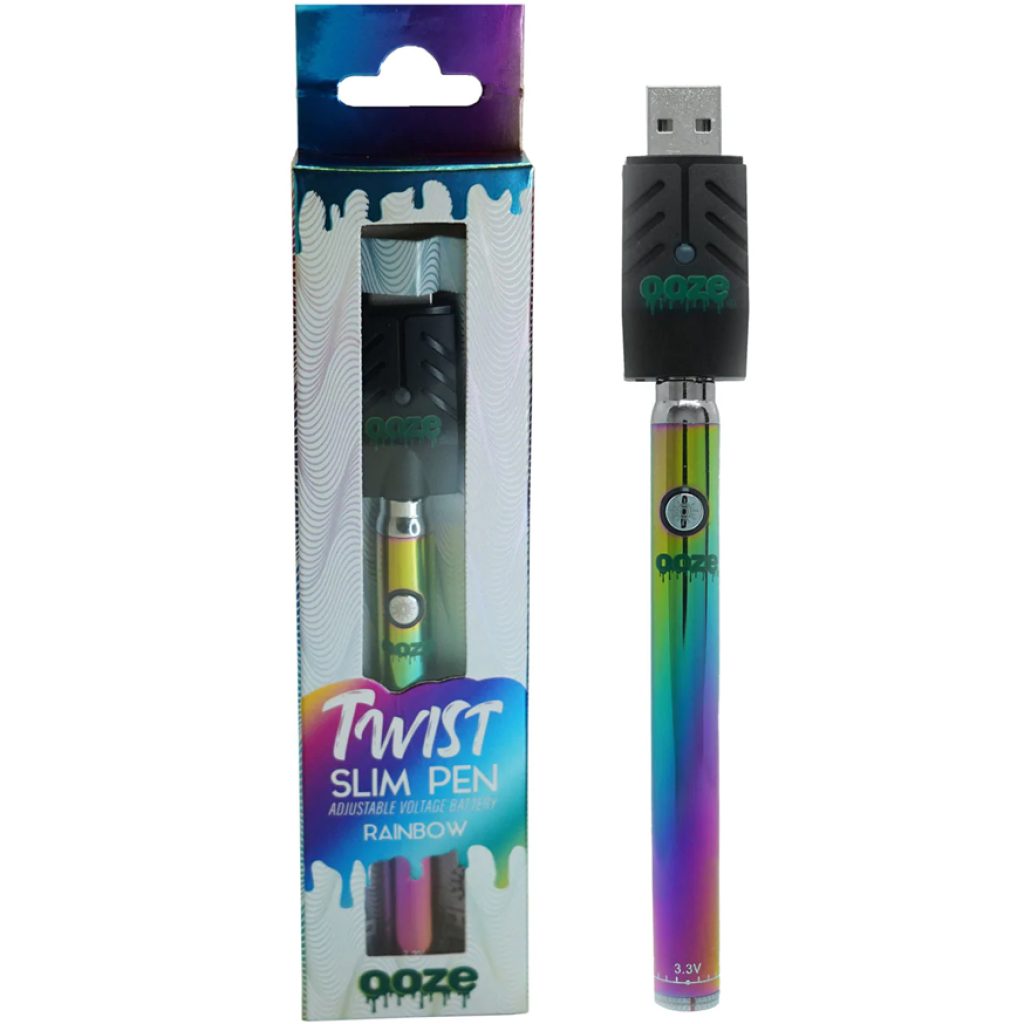 Ooze Slim Pen Twist 510 Thread Battery Features:

Ooze 320mAh Battery
15-Second Preheat mode
Adjustable Voltage from 3.3V to 4.8V
15-Second Auto-Off
Fits most 510 Thread Carts
USB Smart Charger & Smart USB Rapid Charge